Making an awesome photo collage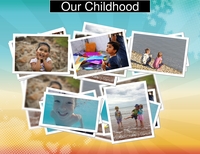 There are many situations when we would like to create a collage. We only need some photos for this. We can create collage using:
Holidays Photos
Childhood Photos
Photos of our Wedding
Photos of our Family Life
Photos of our Friendship
Portraits photos of the members of our Family
Portraits photos of the members of some Team
Portraits photos of all the Employees
The Filevolcano.com offers a great collage maker tool. It's features:
Simple To Use - you only need to select your photos and choose whole composition style.
Polaroid Photos - all the photos are extended with polaroid frame on the collage to make them more attractive
Scattered Photos Layout - the background photos are generated and blurred so that the whole composition looks very natural
Flexibility - the tool will automatically choose best layout depending on the number of photos
With Filevolcano.com the generation of great looking collage is a pure pleasure.